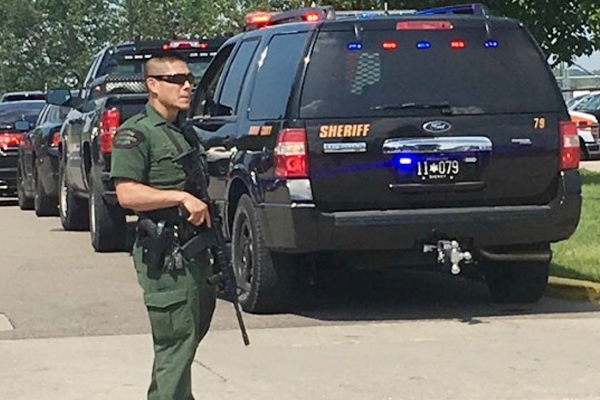 At least two court bailiffs, both retired police officers and the suspect were shot and killed in the Berrien County Courthouse shooting in downtown St. Joseph, Berrien County Sheriff Paul Bailey confirmed.
The shooting took place around 2:25 p.m when a "disturbance" occurred on the third floor of the courthouse, Bailey said.
"The person had shot two bailiffs, they're both deceased, and shot a deputy sheriff who is at the hospital right now being treated in an emergency room."
"Several civilians went for shelter once the shooting occurred and other brave officers were able to come to their rescue and take the shooter down," Bailey said.
The shooting is investigating by the sheriff's department along with the St. Joseph's Police Department and Michigan State Police.
"We have the MSP Crime Lab coming down to process the scene," Bailey said. "We don't have all the details about what happened or what occurred or how he got the weapon, we will be investigating that along with the homicide task force."
Michigan Supreme Court Chief Justice Robert P. Young, Jr. said in a statement that, "Our prayers and condolences go out to those affected by today's shooting at the Berrien County Courthouse. This tragic incident is another sad reminder that courthouse employees put their lives at risk every day to serve the people of Michigan. As we await further details and the results of the ongoing State Police investigation, we stand ready to implement steps to further strengthen courthouse security to better protect both employees and the public."
Also Read: Dallas racism protest: Snipers shot 11 police officers, killed 4
Nandini