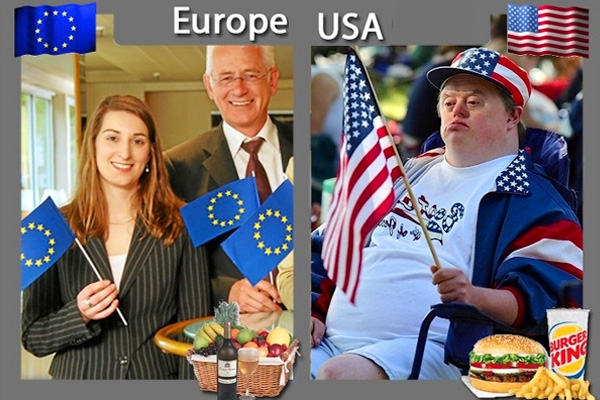 (Image source from: Three Major Diffrences between Europe and U.S.A})
From North Ireland to London to Venice, You feel the connection between Sea, earth, and Sky, which is missing in Steel, Concrete, and soulless America.
Why Europe is far better than America?
1. Community over Convenience. Except in Great Britain, nowhere in Europe do people rush in. Especially in nations like Croatia, people would sit down together in cafeterias and exchange the words, while admiring the nature. Imagine a cool morning under the beaming sun with a cup of coffee surrounded by the pleasant nature.  
And the typical morning in U.S.A: A rough dawn in the concrete jungle (human zoo is a better word), morning is a warning and a wakeup call for your day battle.
2. Europeans eat well, but eat less. one of my friend told that if one eats Pizza in Paris, it is horrible, though the Pizza is from Paris (it's his personal opinion). The standard Italian breakfast is a flaky, butter-laden croissant and a rich, foamy, whole-milk 6-oz. cappuccino. No one spares olive oil on a salad or a plate of fresh pasta. It's a basic essential of Italian life. Since many love to be pedestrians, the calories are burned off and will be good on the stylish heels.
3. Europeans are more relaxed. At times, it was irritating to find so many businesses (outside the main tourist districts, anyway) shuttered between 1 and 4 p.m. If you didn't eat lunch by 2:00, you couldn't find an open restaurant until 7:00 or 7:30. The always-on, always-open nature of American commercial culture is simply not the norm in Europe, even in the sophisticated, modern cities. In the oppressive heat of Rome in late June, it was easy to see the practicality of the 'siesta' tradition. A sluggish, heat-induced pall hung over the whole city, and those who were smart retreated behind thick stone walls to rest and rejuvenate. On Sundays, nearly everything is shut. Europeans learn to plan ahead so they can enjoy their culturally mandated – and embraced — leisure time.
- Manohar. M