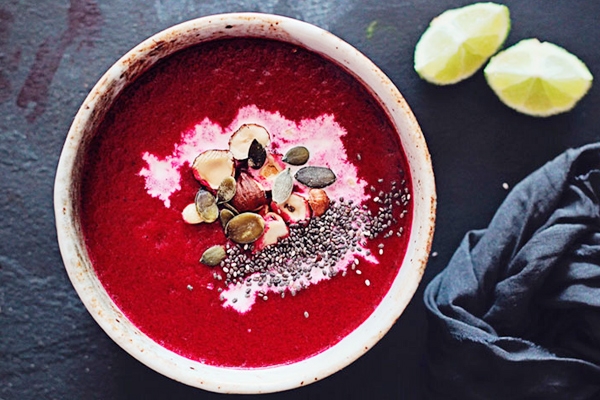 Beet Detox soup is filled with  high quality nutrients and along with this it also helps in providing effective detox effect to the body. The recipe for this highly nutritious soup is as follows.
Ingredients
● Medium beetroots, 3
● Finely diced carrots, 2
● Finely diced onion, 1
● Crushed garlic cloves, 2
● Finely sliced small leek, 1
● Coconut oil, 1 tsp
● Warm vegetable broth, 2 cups
● Sea salt, ¼ teaspoon
● Chia Seeds, sunflower and pumpkin seeds, 1 tablespoon
Instructions
● Simmer the unpeeled beetroots in a pot by covering them in water. Boil it for few minutes.
● Drain the water and strain. Let it cool.
● Heat some coconut oil in a saucepan and add garlic, leek, onions and carrot to it and cook it for 5-7 minutes in low flame. Transfer it onto a plate after removing it from liquid.
● Peel the beetroots and then cut into cubes. Add these cubes in the blender along with warm vegetable broth and cooked vegetables.
● Process it till you get a smooth cream
● Sprinkle some salt on it and garnish it with the help of mixed seeds.