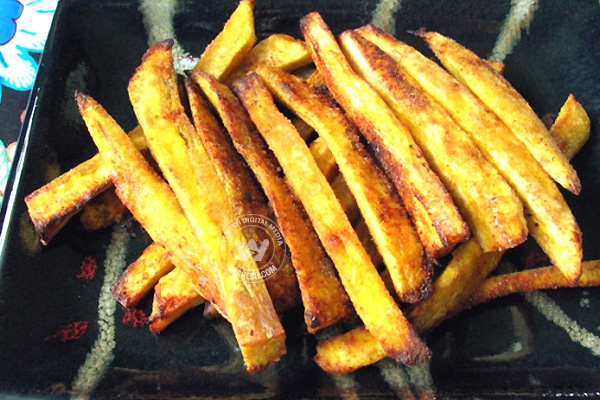 (Image source from: Baked Plantain Fries})
Baked Plantain Fries goes well with your evening get together. The kachcha kela fry snack recipe suits best any occasion as it tastes yummy and can be prepared quickly. Go for kachcha kela or raw banana to prepare baked plantain fries. The earthly flavor of raw banana fries suits best with any ketch up.
serves 1 -2
Ingredients required for baked plantain fries
Green plantain: 1 large
Coconut oil, melted: 1 tablespoon
Sea salt: to taste or 1/4-1/2 teaspoon
Garlic powder: 1/2 teaspoon
How to make baked plantain fries
Preheat oven to 425ºF.
Line a large baking sheet with parchment paper.
Peel plantain.
Half it vertically and cut into strips.
Take a mixing bowl, toss the plantain strips in the coconut oil, sea salt and garlic powder.
Spread fries in an even and single layer.
Bake for 20-25 minutes. Until they begin to turn slightly golden or brown.
Cool for few minutes.
Serve with ketchup.
- Sumana