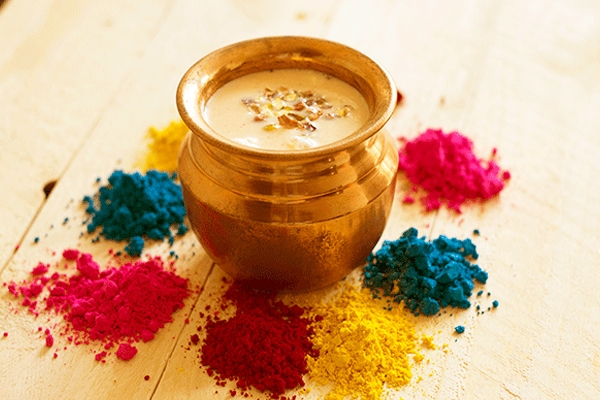 (Image source from: Bhang Thandai Recipe for Holi})
The drink usually preferred during Holi festive season is Bhang thandai. It is undoubtedly the highlight of the festive season. Check out the procedure for the preparation method of bhaang ki thandai. Experts suggest drinking this at your own risk.
Ingredients:
Water: 1 1/2 liter
Sugar: 1 1/2 cups
Milk: 1 cup
Almonds (badam): 1 tbsp
Watermelon/Cantaloupe seeds (dried and skinned) (kharboje ke beej): 1 tbsp
Poppy seeds (khus khus): 1/2 tbsp
Aniseed: 1/2 tbsp
Cardamom powder (elaichi powder): 1/2 tsp
Peppercorns (whole) (sabut kali mirch): 1 tsp
cannabis (bhaang): 15
Dried or fresh rose petals (gulab ki pati): 1/4 cup
How to make bhang thandai:
•Add half liter water to a pan.
•Add sugar and allow it to soak for two hours.
•Soak ass other dry ingredients in another bowl in two cups of water for at least two hours.
•Later grind the soaked ingredients into fine paste.
•Mix rest of the water into paste. Strain it with a strong muslin strainer. This extracts the liquid into a vessel until the residue turns dry.
• Add milk and sugar syrup to the strained mixture.
•Add cardamom powder to the milk.
•Refrigerate for chilling.
•Serve it cool with chopped almonds.
-Sumana